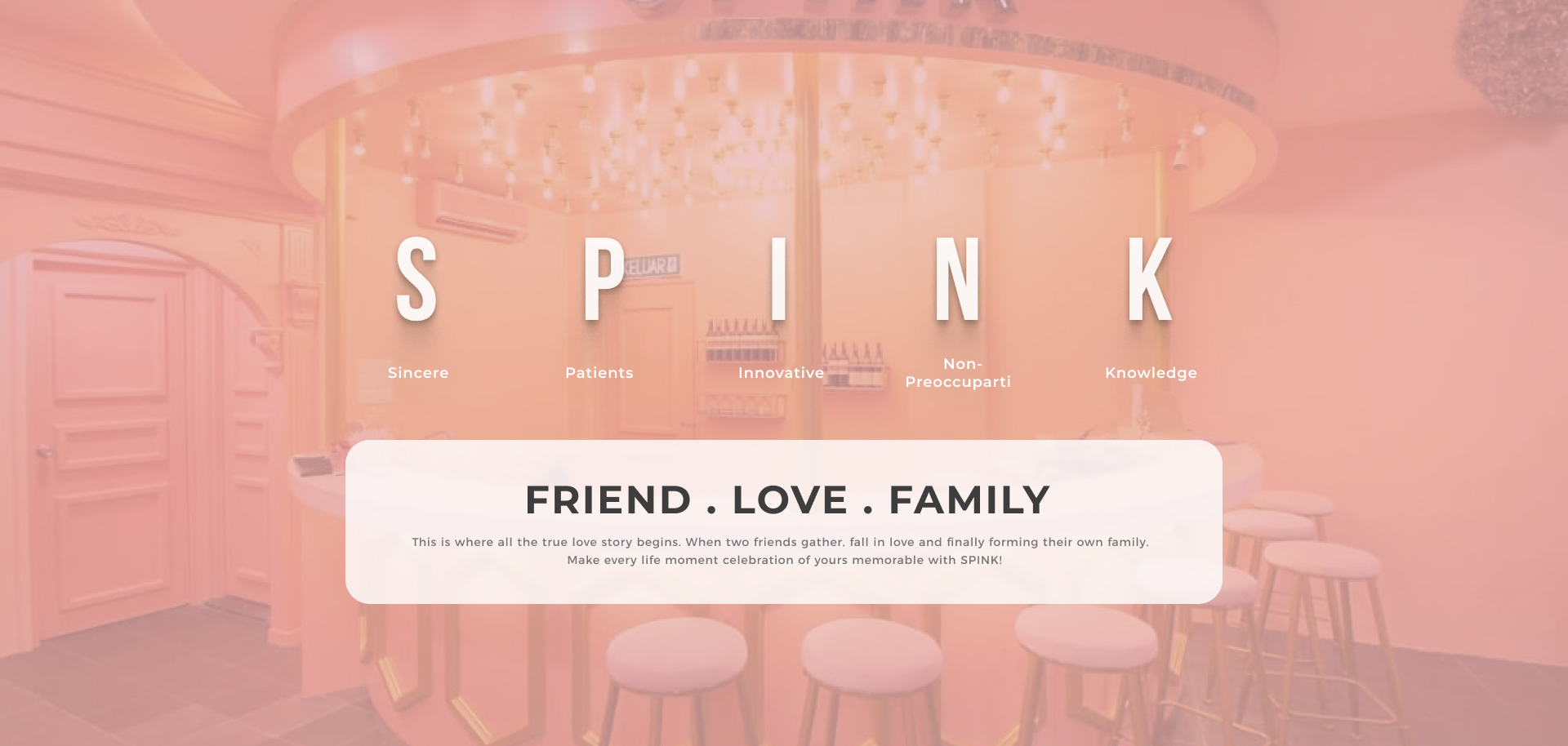 INTRODUCTION
What is SPINK
| | | |
| --- | --- | --- |
| S | - | Sincerity |
| P | - | Patience |
| I | - | Innovation |
| N | - | Non Preoccuparti (No Worry) |
| K | - | Knowledge |
Founded by a group of passionate 90's youngsters, Spink is a corporate that is continuously growing and strive to become the top in service line. Begins in July 2019 as a single restaurant in Bayan Lepas, Spink has currently expanded its map into Ayer Itam, a famous tourists spots in Penang, by introducing Spink In the Sky and Spink Confinement and Baby Care.
Spink Confinement and Baby Care is a modern postnatal retreat based in DeView Hotel with well equipped nursery, baby jacuzzi, 15 luxury suite room, and in house doctor and nurses to allow new mothers to rest in.
On the other hand, Spink In the Sky is a European garden style restaurant with special glass-like dome overlooking the famous Kek Lok Si temple, which serves hotpot, tapas and liquors.From Food and Beverage industry to postnatal care service, Spink group aim was not only about expanding the business, but more about maintaining the good quality of service, solving problems, taking up challenges and continue to grow as a team. Adhering to 5 principles of 'SPINK', spink group has always trained the staffs to show sincerity and patience to our customers and treat every customer like our own friends and family.
The management of Spink Group also encourage innovation and continuous learning among the staffs to gain new knowledge and ideas to help the company to grow and expand. One of the latest innovations by the group is the reward point system that has been introduced in this website. Our customers can not only enjoy the food and services provided by us, but at the same time, they could collect points for every penny they spent in our merchants. Points collected can then be used to redeem various products from the website. Excited to know about the rewards? Spend with us to know! Finally, the 'N' in SPINK, non preoccupati, an Italian word, which means no worry. We wish all our customers are worry free while enjoying our service as we use genuine products and always strive to improve our service. On the deeper context, we hope parents of our staffs not to be worried about their children as they trained not only for job skills but also good qualities that help them to success in the society. We believe great things in business are never done by one person. They are done by a team of people. At Spink, this is the place where we gather all youngsters, new ideas, fresh innovations, to move forwards as a team and continue to grow. In future, Spink group will continue to expand, branching out and step our foot into more industries. Do continue to support us as it is your supports that sustained us on the journey we've started. And yea, stay tuned with Spink and see how we grow!